All fashion trends are not a fit on everyone, and that's totally ok! There are some optical illusion tricks we can use in order to send the illusion of being taller: Skirt length, belts, bags, etc. Which is your favorite?
6. Pick the Right Accessories and Shoes
The easiest way to get taller is to wear high heels. The color of your shoes is also making a difference: any shoe of neutral color will make your legs longer, while black shoes, especially those with high lacing, will make your legs smaller.
5. Pay Attention to Striped Prints
Look at the example, you can see that you should not wear striped clothing (currently fashionable) without having thought. Horizontal stripes add volume. A striped top with a monotone noon skirt, on the contrary, will lengthen your shape.
4. Pick the Right Jeans and Purse According to Your Weight
If you have a smaller size and you wear shortened jeans, they can make you even smaller. Combine these jeans with high-heeled shoes and an urban top. The high waist jeans can also help you adjust your size and look bigger.
Pay attention to the size of your bag. The best choice for smaller women is a small bag (no more than ten inches wide). A fashionable shopping bag will make your image heavier.
3. Try Palazzo Pants
Palazzo pants are a great way to hide high heels or platform shoes while making your legs much longer and making you taller. Try to choose simple styles. A simple top with high waist pants is a combination that has been in fashion for many seasons. This trick will bring out your legs. If you chose a sweater or blouse, you could wear a thin belt or, as in our example, put it in the pants.
2. Try the Pencil Skirt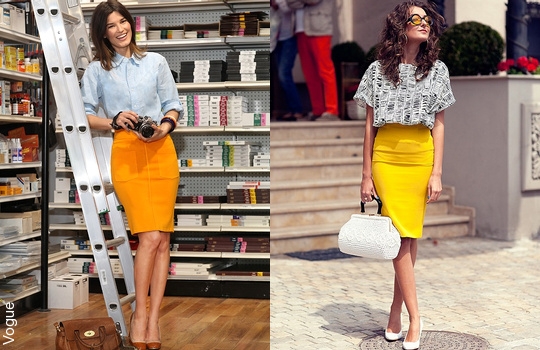 They make you much thinner and taller. Add a white shirt or a blouse, it will help you, so always have one handy..